Remploy factory saved, 30 jobs created
Manchester Evening News
The Remploy factory in Bolton has been saved – providing jobs for up to 30 disabled people made redundant as part of a government closure plan earlier this year.
It is thought to be the only Remploy base to have survived the axing of 27 of the factories established to provide employment to the disabled. Others closed in Greater Manchester include those in Oldham, Manchester and Wigan.
Entrepreneur Oli Randell has created a new company, Ability Tec, which has acquired the assets of Remploy Bolton, which closed in August with the loss of 48 jobs.
The government has transferred the assets of the state-operated firm to Ability Tec free of charge in return for the potential for jobs to be created.
Ability Tec will run as a social enterprise, manufacturing printed circuit board assemblies using a workforce of whom at least 75 per cent are disabled.
It will operate out of the former Remploy site before moving to new premises locally in January.
Child benefit cut still mired in confusion
Daily Telegraph
HMRC is preparing to send letters to all high-earning taxpayers it thinks will be affected by the change, which will see child benefit cut in families where one parent earns over £50,000. Families where a parent earns over £60,000 will lose the money completely.
However the Institute of Chartered Accountants in England and Wales (ICAEW) warned last night that time is running out before the January 7 implementation of the cut.
It said that most middle-class families remain oblivious to the changes, which will require an estimated 500,000 people to fill out complicated self-assessment tax returns for the first time. Anita Monteith, technical manager at the ICAEW's Tax Faculty, said that
"the system could end in chaos because HMRC plans to 'claw back' the money via people's tax returns, rather than simply pay them less".
Benefits cut for three years for Jobseekers who refuse to work
The Guardian, Daily Telegraph
Jobseekers who repeatedly refuse to take up job offers or quit work without good reason face losing their benefit for three years under tougher rules introduced on today. The announcement by the Department for Work and Pensions (DWP) drastically increases the amount of time by which the jobseeker's allowance can be docked, from a current maximum of six months. It does not affect other payments such as housing benefit.
The DWP says nearly half a million claimants for out-of-work benefits were sanctioned by job-centre advisers last year, 72,000 of them because they refused a job offer.
Under the new rules there will be three levels of sanction.
"low and intermediate level"

issues, such as failure to actively look for a job or be available to work, claimants would lose their benefit for

one month

for the first offence and

three months

for subsequent events.
The

higher level

of sanction for people who refused a job or left one without good reason would be

three months

for the first time,

six months the second time, and three years subsequently.
Disability support axe: 500,000 could see payments cut
The Mirror, Daily Telegraph
Hardest Hit, which is a coalition of 90 disability groups, said replacing Disability Living Allowance may force 50,400 out of work and as many as 500,000 disabled people could be plunged into poverty by Government benefit cuts see….

 Council writes to explain its proposal to axe tax benefits
Burton Mail
TOWN Hall bosses have written to every household in Burton as they consider ways to plug a predicted £867,000 funding gap in the benefits system. he Government is cutting the contributions it makes to council tax benefits by 10 per cent as it hands over responsibility to local authorities — which must also make up the funding shortfall.
East Staffordshire Borough Council said in a letter to residents that it hoped to protect the most vulnerable while ending 100 per cent council tax subsidies for most working age claimants.
Councillor Bernard Peters, who oversees the authority's welfare payments, wrote that other options included restricting council tax benefits for people living in larger properties, not allowing working people to claim if they have more than £6,000 in savings, and chopping up to £10 a week off a council tax benefit claimant's entitlement for every working, non-dependant cohabitant.
Housing benefit hits £23bn as working families seek help with rent
The Times
The number of working families in receipt of housing benefit has risen by 86 per cent in the past three years because of soaring private rents and a shortage of new homes, it is claimed today.
The analysis of the housing market shows that despite government attempts to curb welfare payments, the housing benefit bill is still rising. More than five million people — employed and unemployed — are claiming the benefit at a cost to the taxpayer of £23 billion a year. In a report by the National Housing Federation, the number of working people reliant on housing benefit is said to have increased by 417,830 since 2009.
This is partly because the cost of privately renting a home has gone up by 37 per cent in five years. At the same time, house building has fallen to a post-war low. 
The Government has introduced housing benefit caps of £400 a week for a four-bedroom house, and lower caps for smaller houses. A total benefit cap of £500 a week is to come into force next year. But, with more people claiming housing benefit, the benefits bill will go on rising, says the federation.
 Not in Education, Employment or Training: Europe's lost NEET generation detailed
The Guardian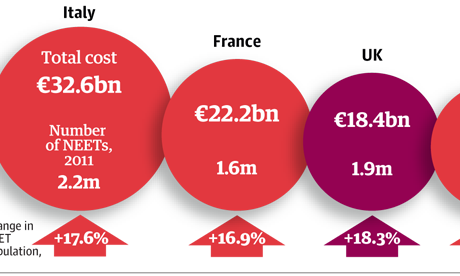 €153,013,053,902. That is the cost to the European Union of the 13,941,264 young people who are not in education, employment or training. The official acronym is NEETs and the number of this 'lost generation' is growing to record levels.
The amount is worth 1.21% of the EU's GDP, up from 0.96% when the recession hit in 2008. In the UK, this cost €18.4bn (£15bn) in 2011, and includes 1,872,403 15 to 29 year-olds. The number of people is second only to Italy, with 2,157,052 people costing €32.6bn.